It's been a crazy few days at Beyond Strength Performance!  Todd has been slaving away on a few big projects, and I've been kicking things into high gear with Dustin Pague preparing for his June 8th UFC on FX fight with Jared Papazian, as well as a handful of projects myself.  So, this post is going to cover a few things that I had intended to drop on you over the past week… enjoy!
Homemade LARA BARS
If you're like me, you love LARA BARS.  I mean, they are fantastic, downright addictive.  However, they are also quite pricey.  Maybe not the most expensive bars out there, but a box of LARA BARS adds up quite quickly.  So when one of my clients, Lindsey, walked into the gym with a food processor, and a multitude of pre-mixed bags of ingredients claiming that she could make any LARA BAR in less than 5 minutes, she had my attention.  And words cannot express how amazing these bad boys are.  So, today I am going to pay it forward and give you the greatest, yet simplest recipe in the world.
What you'll need:
2 handfuls of Peanuts (preferably unsalted)
About 3 pitted Dates or 5 pitted Prunes
Semi-sweet chocolate chips (dark chocolate also works extremely well- and it packs a more nutritious punch)
A food processor (I have the "Rocket."  It's a cheaper version of the Magic Bullet)
What to do (it doesn't get any simpler than this):
Throw everything together into the food processor and grind it to a slightly sticky consistency, making sure there are no major chunks left
Pour the mix into a small Pyrex dish and press it flat
I sometimes refrigerate it to make it a little firmer
OR combine the peanuts and dates (or prunes) in the processor, and add in the chocolate chips afterwards (leaving them whole)
EAT!
And for those of you visual learners: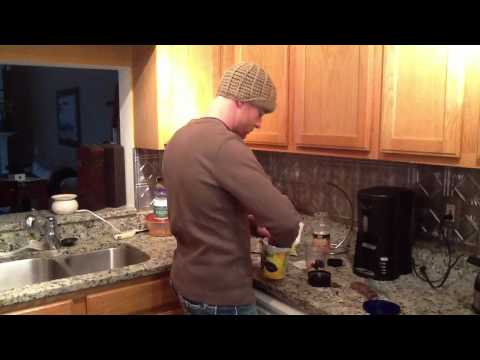 Looking for a different LARA BAR recipe?  Read the ingredients on your favorite bar and mix away.  Me personally, I don't measure out the ingredients (it's a man thing), just experiment and find what I like.  Give it a try… thank Lindsey.
My Experience with the Renegade Diet
I'm not one to recommend things to my clients before I either try it myself, or enough of my trusted friends have.  So with all of the hype about intermittent fasting (IF) the past few months, I decided to give the Renegade Diet a go.  I'm not going to give away the details of the diet, but the main idea is to fast for 16 hours after dinner.  So, if I have dinner at 9pm, my first meal the following day would be 1pm.  Now, it's much more detailed than that, and YES, it goes against everything you've heard.  However, you need to read this book.
This has been perfect for me with having to be to the gym by 5:50am most days of the week.  I feel free of the "eating schedule."
My strength has continued to climb.
My weight initially has dropped, but I am noticeably leaner ( I will begin increasing my calories a bit to keep my weight up)
My energy is through the roof.  Really.
My sleep is amazing.  After my main nightly meal I am ready to crash like never before.
My girlfriend has been doing it as well with great results.  However, her job is more along the lines of a "9-5" (even though they don't really exist anymore), and she finds it more of a challenge to get through the fast.  It took about two weeks for her to acclimate, which is normal.  It's also great to sit down to a FEAST together every night.
The diet is not for everyone, but it is great for some- myself included.  I just really need to figure out what's going to be best for myself.  I definitely don't want to be losing weight, but I also don't want to go back to the confines of 5 to 6 meals a day…  I will continue to post updates with time.
A preview of Dustin's train-up teaser (can't be giving away the recipe on this one, so, very select footage)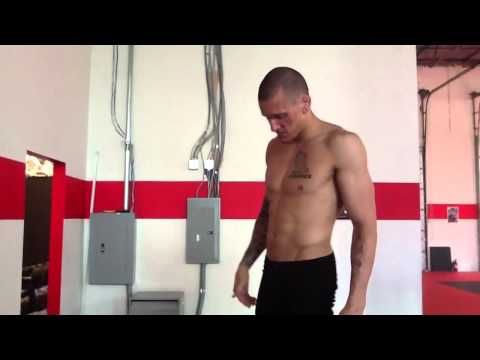 This fight is going to be awesome!
Until next time.
Best,
Chris & Lola
(1391)
The following two tabs change content below.
Strength Coach/ B.S. Kinesiology, Pennsylvania State University/ FMS/ Functional Range Conditioning Mobility Specialist/ Certified Kettlebell Instructor/ Owner of Beyond Strength Performance and Beyond Strength Performance NOVA
Latest posts by Chris Merritt (see all)