I had a new client recently that frequents the physical therapist's office for a number of issues tell me that she refuses to foam roll because it hurts and she doesn't like it. Regardless of my dialogue, she was ready (in her mind) to start training at a pretty high intensity, lose the weight she put on over the past year, and get on with her life. If only it was that simple… Our session concluded with her explaining to me that she knew what she was doing. She didn't need to fill her time with things that weren't going to directly contribute to weight loss (and there was no explaining to her that this in fact could make a major contribution). Needless to say, I will no longer be working with her, and I am willing to bet that her future holds more PT for issues that could more than likely be avoided by being proactive.
Don't fret, positive will come of this for those who are willing to learn from her stubbornness.
I grew up skateboarding, riding BMX (trails), and of course playing team sports (soccer and baseball) and whatever was being played as a pick-up game around the neighborhood. If I wasn't participating in a sport I could be found wading in the river fishing for bass, turning over rocks in the creek looking for salamanders and crayfish, hunting, and blazing trails in the woods- you couldn't get me inside for anything!
Now, I'm only 25, so all of the video games, television shows, computers, and other indoor distractions existed, I just did not care for them. Sit still and reenact an activity on a screen? No thanks.
With all of this exploration came my fair share of injuries. I rolled my ankles weekly with skateboarding, slammed my shoulders and wrists from going over the handlebars on my bike, and let's not even get in to the possibility of concussions from never wearing that helmet my parents bought me… Even all of the fishing, hunting, and hiking take a toll on your body. However, I also somehow never managed to break a bone, have any major injuries that sidelined me, and I sure as heck didn't know what physical therapy was. Bumps, bruises, sprains, and the like were just a part of being a physically active hellion. With age comes wisdom, and while some of these activities have left me with some aches and pains, I've learned how to manage my body to still be able to perform as well as I ever have- and I've never been sidelined in physical therapy for aches and pains.
Before we go further I have to say, I am not a hater when it comes to physical therapy. As many of you know, I worked in physical therapy for the past six months. The experience was great, to say the least. I learned a lot about managing injuries, progressing people post-operation, as well as a host of information that has greatly influenced the way I train some of the clients that I work with on a daily basis. On the flip side, I also saw extremely reactive individuals run to physical therapy for issues that could have been avoided had they been a little more proactive (like the client above).
How often do you pop an NSAID and go on with your day when your back/neck/knee/ankle/whatever hurts? And once you silenced the pain (temporarily), what did you do to really manage it? If you said something along the lines of "continued [your activity of choice here] until it became unbearable, and finally saw my doctor" you my friend are reactive.
On the other hand, if you said something like "I greatly reduced the frequency/volume/intensity of [your activity of choice here] and increased self-myofascial release and mobility work," you are headed in the right direction. If you had already been doing those things on a regular basis, regardless of the frequency/volume/intensity of your activity, you my friend are proactive.
Self-myofascial release is a simple, yet sometimes painful process that can keep you running in high gear for the long haul. So why ignore the benefits, I mean come on, does anyone really like altering their schedule to squeeze in doctor and physical therapy visits? I think we're busy enough as it is…
There are a number of tools that one can use to perform self-myofascial release. The most commonly found, even in average fitness facilities, are foam rollers. However there are some other great tools and products out there as well.
Foam Rollers – check out this past post from Joe Giandonato, MS on all you need to know about foam rolling.
Tiger Tail – The Tiger Tail is a great self-massage tool that is extremely inexpensive (and did I mention it's my favorite tool)! Follow the link to Perform Better and check it out…
The Stick – The Stick is very similar to the Tiger Tail, but is made of segmented plastic rollers, as opposed to one rubberized roller with the Tiger Tail. I have always liked the feel of the Tiger Tail better myself, but The Stick is more commonly used. And oh by the way, the Tiger Tail is cheaper… Once again, you can find The Stick on Perform Better.
Lacrosse Ball, Baseball, T-Ball, Tennis Ball, and Golf Ball – Practically any ball you can find around your place will work. A ball is a great tool for really getting deeper into the rotator cuff, piriformis, and erectors. The golf ball works wonders on the feet as well…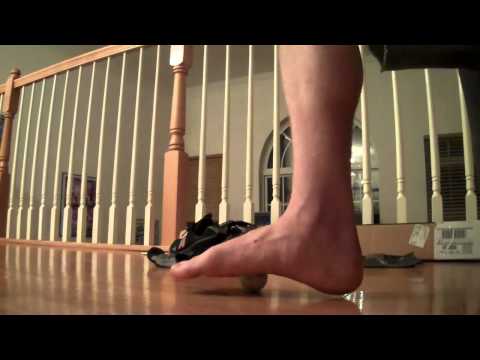 PVC Pipe – If the foam roller isn't cutting it anymore, some people recommend jumping up to a PVC pipe to increase density. It makes sense from the outside, but John Izzo had a post on his blog a while back about selecting the density of your foam roller that may make you think twice about this… He touches on the risk of desensitizing the CNS and creating problems rather than solving them. It's always good to at least read opposing viewpoints with an open mind- from there you can come to your own conclusion.
The best times to foam roll, as I have experienced myself as well as with my clients, is right before you go through your dynamic warm-ups, first thing in the morning, and/or in the evening as you unwind. You don't need to do it at all three times, but I have just found these to be convenient for most individuals.
For a full video library of foam rolling exercises, check out our exercise video database here… and get rolling!
So like Todd always finishes with, Get Stronger- but let's use our heads and take care of ourselves while we're at it.
Chris
[fbshare] (1182)
The following two tabs change content below.
Strength Coach/ B.S. Kinesiology, Pennsylvania State University/ FMS/ Functional Range Conditioning Mobility Specialist/ Certified Kettlebell Instructor/ Owner of Beyond Strength Performance and Beyond Strength Performance NOVA
Latest posts by Chris Merritt (see all)