Subway changed my life… yes, the restaurant.
I was always the skinny kid.  You know, shredded to the bone- all 98 pounds of me.  From elementary school through high school (okay, I think I hit a whopping 130-40 something by graduation) I was an athlete, but my trek wasn't your typical jock one.  I started off as early as possible playing organized baseball and soccer, and just about every sport imaginable through pick-up games with friends.  I got away with being fast, naturally athletic, was always one of the first picks, and I made all-stars in baseball every year that I played (pitcher and centerfield).  But by about 9th grade I grew bored with team sports.  You see, I had a second love, an affair really- skateboarding.  I loved the freedom of it.  I loved that I could grab my board, meet up with friends, and make a day of it.  There were no time limits, practices, rules, obligations.  There were no excuses for failure.  It was me vs. the board.  I loved the mental side of it all…  But it didn't take long for my competitive drive to come knocking, tearing through my skin.
I was sick and tired of being the skinny kid.  I was friends with all of the "cool" kids.  But in that group I was just the little guy.  That needed to change.
I always wanted a gym membership.  I used to stay after school my senior year and lift with friends.  We did everything completely wrong, but it was fun.  I didn't really make much progress, but I'd gotten the same feeling that I did from skateboarding.  Me vs. the weights.  Me vs. my body image.  Me vs. every person who was complacent with where and what they were at the time.
Throughout much of high school I had been a Sandwich Artist (yeah, I capitalized that…it's kind of a big deal).  The summer after graduation I grew the balls to walk into the local Gold's (yes, I honestly was super nervous to enter that place) and sign up for a membership.
Dude at the front counter: "Do you work there?" [I was wearing my Subway uniform]
Me: "No, I just wear the uniform."  [Yes, I was a sarcastic punk]
Dude at the front counter:  [Laughs] "How about you work for me and your membership is free today?"
Me: "Um, what?"
Dude at the front counter: "We are currently in the midst of closing this gym and opening another a few miles down the road.  We are going to have a Subway inside of the gym, literally."
So there began my life-altering Subway experience.  A few weeks later I was working in the gym- all 140lbs of me.  And when he said it was in the gym, he wasn't joking.  It was literally on the gym floor, no more than 10 feet from the first row of Nautilus machines.  Talk about feeling out of your element.
However, early on, something awesome happened.  The personal training desk was right next to the Subway counter, and I quickly became friends with two massive individuals- Nick Wagner and Gregory Marotto.  They took me under their guidance and helped me to not only become comfortable in the weight room, but see ridiculous changes in my weight, strength, mentality, etc…  It was these two whom convinced me to drop out of school for audio production (Fun Fact: I've been playing guitar practically my whole life) and apply to Penn State University for Kinesiology (Fitness Studies).
Around the same time that all of this was happening, my best friend, Dustin Pague, was living in California skateboarding professionally.  He called me and mentioned he was homesick, looking to come back and get into something new…
Long story short:
He came back and was at Blockbuster one night where he stumbled across a UFC DVD.  It wasn't popular like it is now, and he thought it was some fake "sport" like the WWE, but something possessed him to rent it anyways.  As soon as he realized it was real, he called me up and told me he was going to take up the sport of mixed martial arts.  It was then and there that we made a pact.  I would go to PSU for Kinesiology and he would pursue a career in MMA, with the ultimate goal of making it to the UFC.  After my graduation we would kick it into high gear and open a gym together.
So much has happened since that time…  I worked for a lot of gyms (too many to list them all), including LionHeart where I was given the opportunity to assist Matt Kocher (now Assistant Coach for Pitt Wrestling) in the training of future UFC hopefuls Phil Davis, Paul Bradley, Jimmy Hettes, and a handful of others.  I later went on to work for Victory Sports Performance & Fitness (November, 2008), my first full-time gig as a trainer.  I graduated from Penn State with a B.S. in Kinesiology in May of 2009.
Todd Bumgardner, a then intern of Victory while finishing his M.S., approached me in the spring of 2010, noticing that my workouts were lacking.  I lifted alone and I lacked the energy, drive, and goals to really push myself.  All it took was two short months of training with Todd to flip my world upside down.
We trained at his hole-in-the-wall, garage style gym where I was first introduced to real lifting.  Loud, heavy music set the atmosphere.  I had finally found something to be passionate about.  The group of guys that lifted there were dedicated, a second family to each other, and I hadn't experienced that since lifting with Greg and Nick back in the Subway days of 2004.  It felt amazing to be a part of.
However, just prior to meeting Todd, I had begun to put a plan in motion to open a gym back in my hometown with my best friend, Dustin, and a close family friend.  I was making decent money at Victory, but something was missing.  I couldn't see myself staying in a college town long-term.  A few weeks prior to my move back Dustin informed me that he decided to move to Virginia instead, wanting to solely focus on his fight career.  I was very disappointed that our pact was falling through, but at the same time I was excited for his future.  I'll never forget his words that day: "I know you're going to move to Virginia with me in the near future."  Yeah right, I had a gym to open!
I went ahead and resigned from Victory in May of 2010, ready to make the move back to Harrisburg when the whole deal fell through, leaving me just days away from being jobless.  Maybe Dustin wasn't so far off after all…
Dustin was the first person I called after it all went down.  To be honest, he didn't help my mood at all.  I was looking for a pity party and all he said was, "I knew it!" in a super excited voice.  But he was so confident that I'd be down there with him that he already planted some seeds to find me a job.  Days later I had set everything in motion to move to Virginia and work with my best friend at a small gym called MASE Training, owned by former Washington Redskin, Eddie Mason.
MASE was different than anywhere I'd worked before, training clients in very large groups for their May boot camp.  I went from training no more than 12 people at a time to assisting in the training of up to 70 people in one session.  The environment was insane!  However, early on I realized that this was once again not the place for me.  The workouts were high intensity training (HIT) based, lacking on the strength side of things (Side note: At 18 I obtained my first certification from the NSPA, a HIT system, so I understand the principles very well, I just don't use it myself).  MASE was successful at their style of training, but it definitely wasn't my environment…  I stuck it out for the next six months, honestly trying to make it work, but in December of 2010 I parted ways with MASE as well.
Backtracking a little, Todd and I had stayed in constant contact since my move, and he also moved to the DC area in the summer or 2010.  Both of us were looking for a venue to write through and provide guidance to past, present, and future clients, so we decided to start a business together in September of 2010- Beyond Strength Performance (check out the full story on BSP in the About Us section).
The experience with MASE had left me questioning whether the personal training industry was right for me.  I knew that I loved training people, but I was burning out on all of the drama that seemed to come with it.  I was at a crossroads.  Should I follow the money and get a 9-5 type job, or do I press on with training and see if I can turn all of my experience into something I've always been looking for?
That's when I found physical therapy.  I stumbled across a Craigslist ad for a physical therapy aide position with Town Center Orthopaedic Associates, and a few days later I was assisting in the rehab of patients coming from all sorts of surgeries, injuries and the like.  Over the next 6 months I learned a ton, made great friends, and at the same time realized how much I was missing coaching.  I had to make the transition back to my passion, and I had to do it right this time.
It just so happened that at the time I was making this transition, Dustin had made right on the first part of our deal of making it to the UFC and opening a gym together.  He was married on May 28th 2011, and left to film for The Ultimate Fighter Season 14 just days later.
I transitioned back to coaching full time, and as soon as he came back from filming TUF 14 we made the final plans to open our gym together.  Disciple MMA Academy and Beyond Strength Performance NOVA opened the doors on October 4th, 2011, less than one month before Dustin fought at the finale of The Ultimate Fighter.
The past 7 years of training and coaching had left me with great experiences, and equally as many disappointments.  I knew that this was bigger than just having a gym together.  We wanted to create an impact on everybody in a positive way.  I knew how much I dreaded being in the same room as the owners of some of the businesses that I had worked for in the past, and that is far from the CULTURE that we wanted to impart.  We would never lead by fear, rather a culture of friendship and mutual respect.  I have since been told by members, partners, and visitors that the culture resembles a club and the camaraderie of the military.  Literally, the greatest complement that I have ever received was from a 49-year-old Reconnaissance Marine.  He told me that he has never seen camaraderie like we have at Disciple MMA Academy and Beyond Strength Performance NOVA since his active duty days.
Ten months into this thing it still hasn't hit me entirely what we've accomplished.
We are living our dream.  We never let anyone tell us no along the way.
To be continued…
My reason for putting all of this in here is not to brag or say look how much I've done, but rather to inspire.  Everyone has dreams of something bigger.  GO GET THEM.
Best,
Chris
August 2012
Chris is currently a strength & conditioning coach for both professional and amateur mixed martial arts athletes (specializing in weight cuts and peaking for competition), as well as part owner of Disciple Mixed Martial Arts Academy.  Over the years, Chris has worked with both male and female clients ranging from 8-years-old to 82-years-young.  He has seen clients through pregnancy, wedding preparations, career setbacks, and both mental and physical disabilities.
"Honestly," says Chris, "I don't have a favorite type of client.  It's the relationships we build with each other and the milestones we reach that I thrive on."
Contact Chris: Chris@beyondstrengthperformance.com
Friend Chris on Facebook: www.facebook.com/christopher.d.merritt
Follow Chris on Twitter: www.twitter.com/chrisbeyondst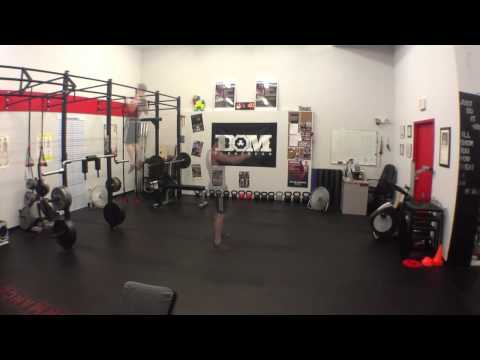 Follow me on Instagram:

Follow me on Facebook: Chris Merritt


Create Your Badge