Real quick guys, I have an awesome metabolic circuit/challenge for you to try out…  We have been doing this since last Spring, on and off, to re-check and challenge ourselves from an anaerobic conditioning standpoint.
Two of our pro fighters (Neil "The Gutterman" Johnson and Dustin "The Disciple" Pague) did this for a quick workout last night.  The whole workout, after warmups of course, is VERY short.
20 hanging leg raises
20 jump pull-ups (you need a high bar for this one… jump from the ground, grab the bar, do a pullup, and drop back to the ground)
20 single leg step-up jumps (10/leg)
20 pushups
20 inverted rows
20 dips
30yd sprint, cut and return (60yds altogether)
This is a timed challenge.  The current record with our team of guys is held by Dustin Pague at 2:32.  No, that is not a typo… Watch the video and see for yourself.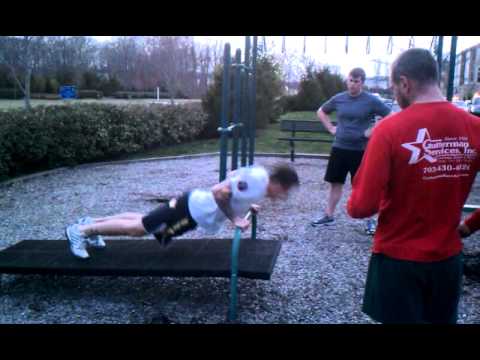 [fbshare] (852)
The following two tabs change content below.
Strength Coach/ B.S. Kinesiology, Pennsylvania State University/ FMS/ Functional Range Conditioning Mobility Specialist/ Certified Kettlebell Instructor/ Owner of Beyond Strength Performance and Beyond Strength Performance NOVA
Latest posts by Chris Merritt (see all)