Jumping is awesome.  Who isn't impressed by the dunking capabilities of Blake Griffin and Michael Jordan, the long jumps of Carl Lewis, Gerald Sensabaugh's vertical at the NFL Combine in 2005, and something you probably wouldn't think of- jumps like the flying knees of Muay Thai and MMA fighters.
Pretty explosive right?
As many of you know, we are about 6.5 weeks out from Dustin's next fight at UFC on FX 3, June 8th in Fort Lauderdale, Florida.  He is facing Jared Papazian, a very well-rounded fighter who also likes to stand and bang.  Dude is tough, always down for a war…  Be sure to tune in!
Okay, shameless plug done.
I see everyone training jumps (for the most part)- but it's mainly box jumps.  I also see everyone starting to do loaded glute bridge variations (awesome!), but I see a void.  Where's the broad jump?!  Sure, a lot of us are using it to TEST, but I don't really see anyone using it to train.  I propose we change that.
Above, we talked about those flying knees, but there are lots of situations in sport where an explosive broad jump is going transfer to an increase in specific athleticism.  Why do you think they test it at the NFL Combine anyways?  And while there are lots of strength exercises that are going to lead to an increase in broad jump capability (barbell glute bridges, single leg hip thrusts, barbell hip thrusts, squats, deads, etc…), it's silly to think that working the broad jump specifically wouldn't help.  And in the case of working with Dustin, to be honest, I don't really care about his broad jump numbers.  All I care about is whether he is stronger, faster- DOMINANT on June 8th.
So this cycle of his train-up we have been using a drill I call lateral bounding to broad jumps (I know, exciting name) for explosive work prior to strength work on his lower body day.  I had Dustin film me doing them on Monday,  check it out: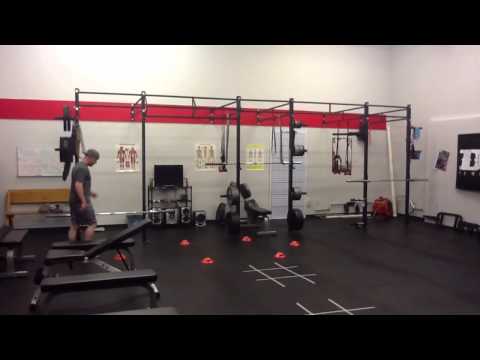 This is a violent move.  When you jump, get forward!  Drive your feet like your life depends on you travelling no less than 9'6″ (Martin Rooney's excellent score for the broad jump in "Warrior Cardio").  However, due to the elastic energy from lateral bounds leading into the broad jump on this drill, we were scoring anywhere between 10′ and 10'3″ on this drill.  You can't approach this one like it's just another exercise.  Get angry, set goals, try and dent the floor by pushing off as hard as possible.  Even for the landing, reach forward with your legs and FIGHT for every inch possible…
We have been performing these anywhere between 3-4 sets of 1-3 jumps per leg throughout this phase.  Due to the explosive nature of the exercise, do not go with high reps on these.  The idea is to CRUSH it, not get tired and crap out.
So keep getting stronger, keep doing box jumps, keep doing explosive weighted brindging variations, and keep throwing things- but learn how to program these exercises for continual progress.  And finally, start broad jumping!!!
And since we talked about Muay Thai earlier, let me leave you with this amazing gem:
Best,
Chris
(1667)
The following two tabs change content below.
Strength Coach/ B.S. Kinesiology, Pennsylvania State University/ FMS/ Functional Range Conditioning Mobility Specialist/ Certified Kettlebell Instructor/ Owner of Beyond Strength Performance and Beyond Strength Performance NOVA
Latest posts by Chris Merritt (see all)