Last week Todd unveiled a possible new feature for our blog in 2012, "Awesome Research Thursdays."  Your feedback has been great and we are happy to say it will be a part of the blog moving forward!  This week I wanted to unveil another possible feature for 2012, "Heard of This?"  I will be taking unorthodox, cool, new, old, forgotten, and/or kickass exercises and putting them up on a regular basis.  Maybe they won't be brand new to you, but they will probably make you go, wow, I forgot all about those!  And if not- well then your just too cool for school Mr. (Mrs.?)!
This week I filmed a quick take of "walking kettlebell swings."  Personally, I learned these a few years back from the "Kettlebells for Combat Athletes" DVD by Zach Even-Esh and Jason C. Brown, but I forgot about them until recently.  I love them for working the hip hinge and deceleration in a dynamic enviroment.  I do them with two hands and straight forward in the video, but you can get crazy and move all sorts of directions, do them one handed- just have fun with it!  When done properly they will flow extremely smoothly, you should not feel yourself fighting the kettlebell at all… 
So check it out!  Throw them into your finishers, superset them, do them while you eat breakfast- maybe even lunch.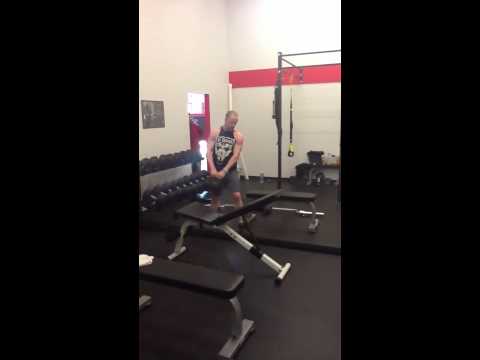 Be sure to drop your comments and let us know if this is a feature you'd like to see on a regular basis in 2012!
[fbshare]
(759)
The following two tabs change content below.
Strength Coach/ B.S. Kinesiology, Pennsylvania State University/ FMS/ Functional Range Conditioning Mobility Specialist/ Certified Kettlebell Instructor/ Owner of Beyond Strength Performance and Beyond Strength Performance NOVA
Latest posts by Chris Merritt (see all)