Okay guys (and gals), so I've been MIA for a while now, and I apologize for that.  No, I'm not lazy- I've actually been working 65-70 hour weeks and then traveling for fights on the weekends… whew, deep breath, and relax.
So anyways, I'm off work today and tomorrow to attend the Tactical Athlete Kettlebell Certification run by Jeff Martone.  I'm going to be honest with you, I was scared that Jeff would be one of these guys who swears by the kettlebell and the kettlebell only (trust me, they're out there).  Come lunch time though I was gladly surprised to see him peforming different olympic lifts and the like over on the platform.  And after a solid conversation I was sold that he is one legit guy- extremely down to earth.
So far we've covered the basics (dynamic warmups, deadlift, two hand swing, one hand swing, kettlebell armbar,Turkish get up, clean, and snatch).  Now I've been exposed to all of these movements before, but the way that Jeff teaches the progressions is out of this world.  Sometimes, we as coaches envision the end product and have a hard time breaking down the basic building blocks of movement.  Jeff not only taught us progressions that work for the kettlebell, but almost all of them transition over to the barbell, dumbbell, bodyweight training, and sports performance. 
My favorite quote of the day so far: "Why be strong when you can be stronger?"
I'm not going to get into the nitty-gritty in this post, but Iwill show you this awesome video that I shot today of Jeff doing a human Turkish Get Up: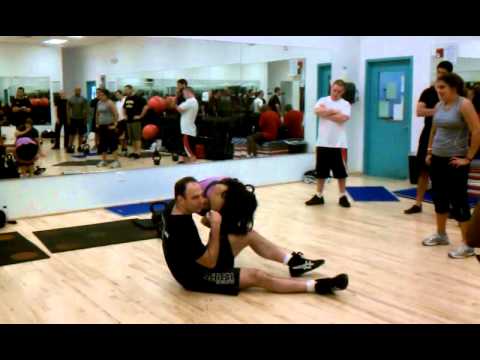 Take care,
Chris
[fbshare] (1029)
The following two tabs change content below.
Strength Coach/ B.S. Kinesiology, Pennsylvania State University/ FMS/ Functional Range Conditioning Mobility Specialist/ Certified Kettlebell Instructor/ Owner of Beyond Strength Performance and Beyond Strength Performance NOVA
Latest posts by Chris Merritt (see all)