Chris is a tough act to follow this week–his post on Progressing the Squat for MMA is outrageously detailed. I think he's trying to make me look bad–especially in his super-cool Sgt Slaughter-esque, Army issue, black tank-top. Dang dude, you bad.
What a jerk. (I'm kidding. Chris is a sweetheart. For those of you that don't know, Chris loves romantic poetry and has read every Nicholas Sparks novel. He won't admit it, but Dear John is his favorite.)
Ok, I'm not just going to bust on Chris for a few thousand words–today's post has a point. I want to present you with an exercise I've been using frequently with athletes that require a great deal of rotation. It's called the rotational side lunge. Check out the video below: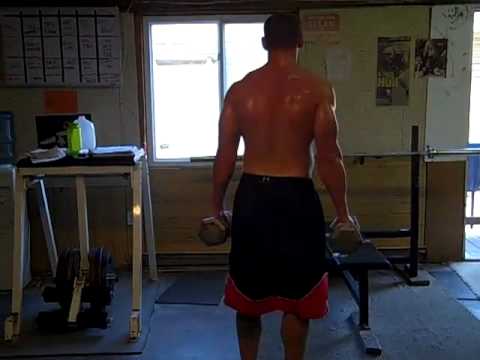 Rather than write fifteen paragraphs about why this exercise is awesome, how to use it and who to use it with, I'm going to outline this for you like a news article. Here's the who, what, where, when and why.
Who: The beeftastic athlete in the video is amateur MMA athlete Trey Rogers. But I like this lunge variation for mixed martial artists, quarterbacks and baseball players. Well, any athlete spends a lot of time moving through the transverse plane.
There are, however, some prerequisites athletes must meet before they are prescribed this exercise. They must have proficient single leg stance, move well during basic lunge patterns and master the basic side lunge. Good rotational stability is also a must. If they can't bird dog with out compensation–they shouldn't do this movement.
What: The exercise is designed to train strength and power through the transverse plan. But as it's about creating rotation, it's also about resisting it. The dumbbells challenge the core by creating a serious rotation moment. Without a good brace, and the ability to resist rotation, the dumbbells would carry the body for a loop.
Where: Well, Trey is performing this exercise at my gym in Bellefonte. My guess is that you'll do it at yours? Alright, I'm a smart ass–sorry.
 A better where is where in the training phase. After rotational athletes have progressed through all other lunge variations, use this lunge during assistance training. For example, I train a high school quarterback and he uses this movement. He is one week away from football camp and has mastered all other lunges. He is also getting ready to throw a lot of footballs and building peak strength through the transverse plane will improve his performance.
When: Place them in the training day as a first level assistance exercise.
Why: I think we covered this, but what the hay, let's go over it again. We are using this exercise to build rotational strength and power, as well as training for rotational stability.
I can't stress enough the importance of clearing athletes through all other lunge patterns, and rotational stability, before having them attempt this exercise. Also, make sure it's appropriate for the athlete. If they don't need it, don't use it.
All that being said, these bad boys have worked well for my guys. They are awesome.
Get Stronger,
Todd
(1941)
The following two tabs change content below.
M.S./ CSCS/ Owner of Beyond Strength Performance/ Ginger
Latest posts by Todd Bumgardner (see all)