This past weekend I competed in strongman for the first time. I entered in the novice lightweight division (I'm about 210 pounds) at the PA Dutch Strongman Comp and took second place. The event was hosted by Crossfit Lancaster and it was AWESOME. I'm now hooked and I am already planning to hit another competition sometime during the summer.
You wouldn't think that only five events, the longest lasting for one minute, would crush your body. As I'm writing this two days later, my hamstrings feel like they were lit on fire and put out with a pitch fork. My upper-back and traps are in the same condition. It feels good to be post-competition sore again. I haven't felt this for a while.
Like I said, there were five events during the day: circus dumbbell clean and press (80#), deadlift for reps (315#), keg/sandbag medley (200# each), farmer's walk (185# each hand), and atlas stone over the bar (220# and the bar was 48 inches high). My strength on all the events felt great, but being a novice, technique was another story. Here's how they each played out.
Circus Dumbbell Clean and Press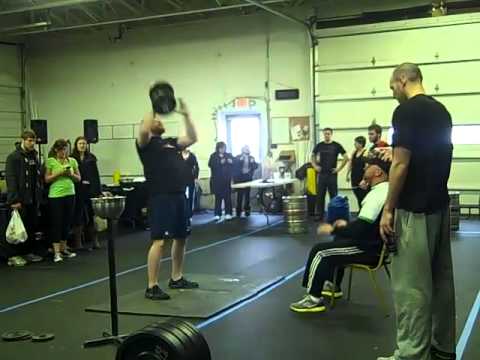 Fifteen reps isn't too shabby! My pace could have been a little better, though. I got second in this event and I felt good going into the deadlift because it's my strongest gym lift. Things didn't turn out the way I'd hoped.
Deadlift for Reps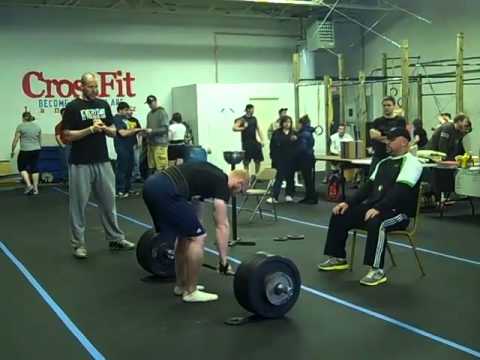 At most points during your life hitting 315 for 25 reps would be stellar. On this day, however, it landed me in third place for the event. Poop. I thought the break I took after the 20th rep would let me recover to crush eight more reps. It was a foolish move–my fatigue caught up with me and I only hit five more reps. First place landed 28 reps and second place was a great 27. I was still sitting well with points.
Keg/Sandbag Medley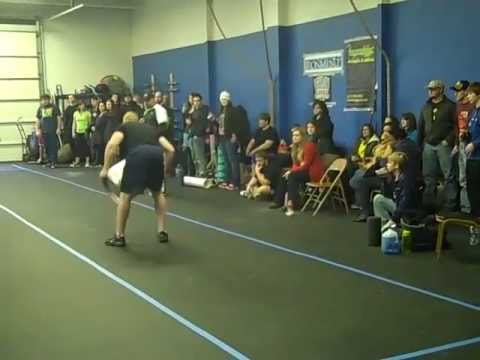 Now my second mistake of the day! I had the feet churning a little too fast before I secured the keg and it caused me to stumble. I lost some valuable time and finished in just under thirty seconds. I was still in second place for the event, but I was sloppy and it hurt my performance. Lesson learned.
Farmer's Walk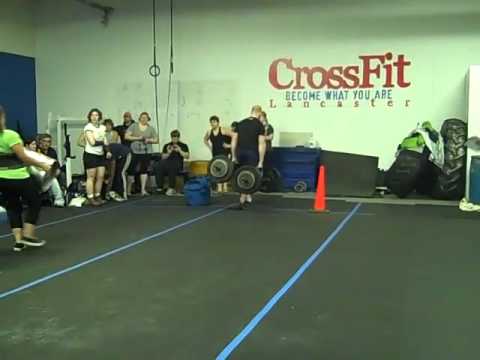 Aside from the deadlift, the farmer's walk was my cleanest event. Thanks to coaching from James Smith and Mike Jenkins (yep, the Met-Rx World's Strongest Man competitor), my grip was set right and I picked the handles easy. My feet, and my turn were clean, but I could have moved a little faster. I wound up in third place for this event.
Atlas Stone over the Bar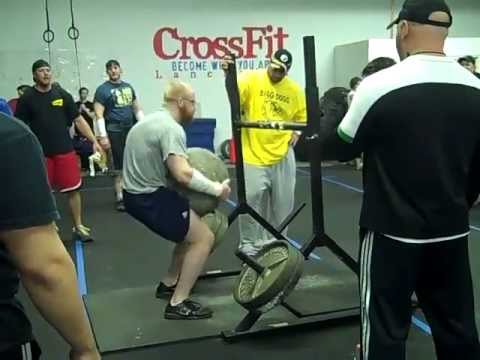 I was in great position to win the day going into the Atlas stone. The great part was I got to go second to last, as I was in second place in points. I felt confident going into the event that I could win it–and I did. The problem was, the guy that was beating me with points tied me. Poop. My bad picks, which were the result of bad form, on two of the stone lifts cost me the event. Had I been better with technique I could have gotten ten reps rather than eight. But that's the breaks–and I learned from it.
Some of you might be wondering what my post-competition meal was. It was Moe's Southwestern Grill. I got the Joey Bag O'Donuts burritto and I abused it. During the competition I sipped on a mixture of a half-gallon of water, half-gallon of gatorade and three scoops of USP Modern BCAAs (I don't know how many grams are in each scoop). I didn't feel hungry at all during the competition and the mixture seemed to keep me going pretty well. Well, it was either the mixture or the 400 grams of carbs I ate the night before.
My program for the last eight weeks leading up to the competition was written by Chase Karnes, and I am forever thankful for it. Chase let me guinea pig the program he is working on for a strongman training resource he will be putting out in the near future. The program works. I was strong and I felt conditioned for the entire day–I didn't run out of steam. If you're looking to get into strongman keep an eye out for Chase's book or hit him up on his website–I know he takes on online clients.
Smitty (of Diesel S and C) and Brad Martin (also of Diesel S and C) coached me on the events. If it weren't for their help, I would have looked like a blundering idiot–and I definitely wouldn't have placed second.
 Annie, my lovely girlfriend, rolled out of bed with me at 5 a.m. so that she could drive me for two hours before the sun was up. It was all so I could pick up heavy things and walk with them. She's awesome.
For now, I am a strongman competitor. It feels good to type the word competitor–I haven't been able to do that while talking about myself for almost two years. Coaches should compete, never forget that.
Get Stronger,
Todd
(2544)
The following two tabs change content below.
M.S./ CSCS/ Owner of Beyond Strength Performance/ Ginger
Latest posts by Todd Bumgardner (see all)