If you had walked up to me on the street two years ago and told me that in 2012 I'd be the co-head presenter at two seminars, I'd have looked at you cross. Not because I wouldn't have believed you, but because I would have been creeped out. Stranger danger isn't cool and I don't want to end up as a science experiment in some sociopath's basement.
Ok, so I also probably wouldn't have believed you.
I had no idea that over the course of 2011 and the early part of 2012 I'd collaborate with another great coach and combine each of our collective training styles into one, succinct system–Supreme Strength. I didn't know that it would result in great book–purchased all over the globe–built around results driven program. The process has astonished me.
But satisfaction limits progression. Coach Gags and I each worked on improving the Supreme Strength system and our subsequent presentations. We went after it hard.
The Supreme Strength 2.0 seminar was hosted at Gaglione Strength's new location in Farmingdale, Strong Island, NY. Coach Gaglione and his fellow coach Eric Prush have put together a great facility. If you live on the island, or happen to be travelling through, contact John and get your ass in there.
Anyway…the seminar.
We had a full spectrum of attendees–from fitness enthusiasts to doctors. We even crossed fitness barriers–several crossfit coaches attended. It just goes to show that we can all get along. Well, yea…get along. We can all do that.
Having coaches, doctors and lifters from all walks of life in the door we really had to step up our game.
Throughout the day we covered everything from breathing patterns to the big four lifts: squat, bench, deadlift and overhead press. In the middle we touched on basic assessments and how to utilize bodyweight power training. We outlined our entire system and gave all the attendees the means to practically apply it. We're really nice guys.
Unfortunately, though, I had to give up my first love this time around–I didn't coach the deadlift. As sad as it was, Coaches Joe Meglio and Eric Prush did a great job teaching the deadlift progression and I got to educate via the squat progression.
My BSP brother Chris Merritt coached the overhead press with the help of Steve Tria of Team 13 Fitness. Their presentation was magical. I literally saw a unicorn. They did great work with RNT for the overhead press, as well as introducing folks to shoulder PNF patterns. Thanks guys!
Dr. Justin Rabinowitz even jumped in and offered his practical knowledge as a rehab specialist. He's smart, like really smart–and he has great curls. Here's the good Dr. getting excited about core stability. He blew his curls out.
The help of great coaches and therapists was incredible. Apart from those that attended, they made the seminar great.
I can't provide a solid date yet, but the next Supreme Strength seminar will take place early next year. The big news is that it won't be on Long Island. We're branching out to different parts of the country. Big things poppin' and little things stoppin'.
Coach Gags and I greatly appreciate all the support Supreme Strength has received. It's been an honor.
Here's to continuing a great thing!
Before I sign off on this post, I wanted to show you what happens after a long day of coaching at a seminar and participating in some of the exercises with the attendees, namely the iso lunge hold, and then immediately consuming alcohol. It's called quad lock.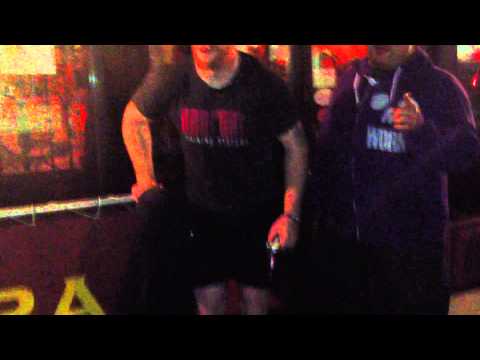 Annnddd…just for good measure I'll show you why Chris Merritt and Justin Assadinia will no longer trust me to book the hotel. In my defense, Long Island was just hit by Hurricane Sandy before I booked the hotel. There wasn't much available so I wasn't picky. Long story short, it didn't turn out so well.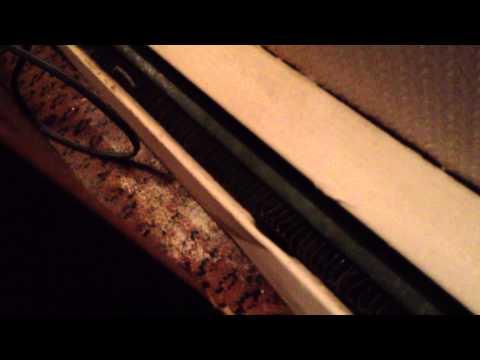 Get Stronger,
Todd
P.S. Ranfone ditched us. We won't forget.
(1702)
The following two tabs change content below.
M.S./ CSCS/ Owner of Beyond Strength Performance/ Ginger
Latest posts by Todd Bumgardner (see all)