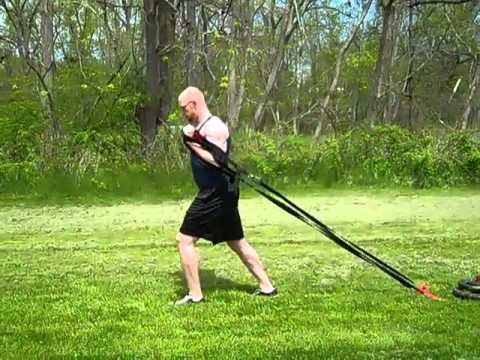 I hope everyone is having a great week!  Since it's beautiful here in New York, I decided it's a great day to do some sled dragging in the back yard.  Luckily, Annie (my girlfriend) was on a break between classes and we could film this sled drag variation for you.
I call it the 1 arm post drag/1 arm row combo.  I'm going to throw it on my off days for some shoulder stability and mobility work, as I have shoulders fit for a 65 year old man.  Apparently powerlifting and running into people at high velocities can be harmful, whoda thunk it? 
It works great as an anti-rotation exercise as well.  Fighting to stay square on the post drag takes some pretty serious effort.
Beware, I have ghastly white skin and sunglasses may be necessary for viewing.
Give the combo a shot! 
Get Stronger,
Todd (1200)
The following two tabs change content below.
M.S./ CSCS/ Owner of Beyond Strength Performance/ Ginger
Latest posts by Todd Bumgardner (see all)