Do you know exactly what will happen tomorrow?  Sorry, I don't mean to get all deep on you right before St. Patrick's Day celebrations kick off, but I just wanted to talk a little about the unexpected before we kick this weekend off right…
This past weekend was supposed to be awesome.  It was supposed to start with a team building night of trampoline fun (check out this place called Rebounderz if you're unfamiliar).  We entered the building around 9pm Friday night and proceeded to go wild.  The whole place is trampolines, even the walls are angled trampolines to bounce you back towards the middle- Heck, they even have a foam fit next to one of them!
Picture from inside the place:
Well, it only took about 45 minutes for all of the fun to turn to horror:
 Dustin Pague's wife, Jaci, and I came a little too close and somehow her leg managed to break at the Tibia, Fibula, and ankle.  Not a little hairline fracture, but full on snap.  Seriously reminiscent of this old gem:
Quite honestly, it was the worst thing I have ever seen in terms of an injury up close.  But let's just say that Jaci is a trooper.  The pain she was in was out of this world, however, she never passed out.  Three and a half hours of surgery later and she's at the beginning of a long road to recovery.
So why am I talking about this on the blog?  First and foremost, I want to make sure you don't take this moment for granted.  It's so easy to be negative and complain, to talk about the what ifs, what could have been, how much your job sucks, or whatever else has you on the edge.  MAKE THE CHANGE, don't wait for it.  Take advantage of every second, minute, hour, day, week…  As soon as you embrace the positive, the negative won't matter as much.  You just never know what tomorrow holds for you.
I was just over at the Pague's and her dad and brother came down from Pennsylvania to visit.  While I was there, Jaci was very upset about how much this injury has turned her life upside down.  She's frustrated that she doesn't know what the road to recovery is going to be like- that she doesn't know when she'll be able to do the things she's longing to do again.  Quite frankly, she's freaked out at the pain and not knowing if it will be any different tomorrow.
Well, her dad put it better than I ever could have.  He said, "Jaci, did you know what every day was going to be like before this injury?"  And of course Jaci answered, "yes, for the most part…"  But he continued to point out that we really don't know- at all.  He went on, "I'm not guaranteed a safe drive back to PA today, Dustin's not guaranteed to wake up tomorrow, none of us are guaranteed that things are going to go OUR way."  I'm not going to get into a debate here of your belief systems or anything like that.  But certain things really aren't up to us.  It's how we deal with the outcomes that make us who we are.  While we want to be proactive as often as possible, we also need to be reactive in a positive way when the time comes.  That's what sets apart the successful from the weak…
I'm not gonna lie, the amount of time that Dustin needs to devote to taking care of Jaci right now made this week very difficult at the gym.  And I'm human- I let my frustrations get the better of me, at least at first.  But when I stepped back and looked at the bigger picture, this whole situation has made for some very positive outcomes.  Further, outside of the pain that Jaci is in, I can't come up with negatives.
I was able to connect with some clients on a level that I wouldn't have otherwise gotten to.
I had to react, sometimes with zero warning to unexpected situations.
Dustin and Jaci are in a very difficult situation, early on in their marriage- and they are working through it, TOGETHER.
But all in all, the weekend is here, everyone is okay, and we actually received REALLY positive feedback about the way we had to combine some semi-private and personal training sessions as well as boot camp with Dustin being out.
I'm not tooting my own horn at all, but rather trying to show you that you can make any negative into a positive.  You might not see it right away, but you will…
I'm going to leave you with some fun partner challenges and footage to ease into your weekend:
Workout 1
Dynamic Warmups
Ladder #1: Pronated Pull-Ups alternatng with partner (1, 2, 3 ascending only) for as many rounds as possible for 5:00
Ladder #2: Pushups alternating with partner (1, 2, 3 ascending only) for as many rounds as possible for 5:00
Plank Rope Rows for 2 x per side (hold plank while partner rows)
Bike Sprints/Battling Ropes/Overhead Med Ball Slams for 3 x :15work/:20rest each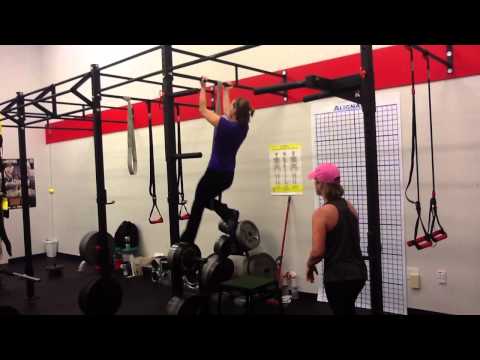 Workout 2
Ladder #1: Kettlebell Deadlifts alternating with partner (6, 7, 8 ascending only) for as many rounds as possible for 5:00
Ladder #2: Standing single arm dumbbell press alternating with partner (1, 2, 3 ascending only) for as many rounds as possible for 5:00
Challenge #1: Wall ball x 10, Burpees x 10, Medicine Ball Slams x 10, Squats with Med Ball Reach x 10 for as many rounds as possible for 5:00
Challenge #2: Kettlebell Swings x 20, Plank up/downs x 5 per side, KB Swings x 20, Plank Walk Backs x 5 for as many rounds as possible for 5:00.
Group Conditioning Finisher: Bike Sprints/Battling Ropes/Med Ball Slams for 3 x :20work/:20rest each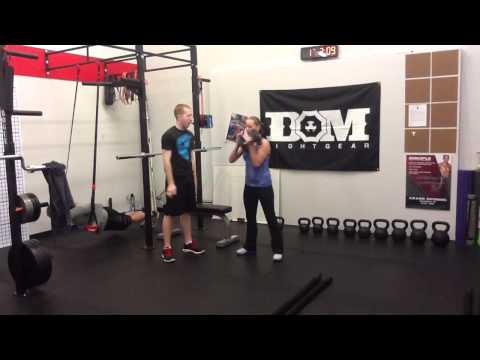 Be safe this weekend everybody!
Chris
(1569)
The following two tabs change content below.
Strength Coach/ B.S. Kinesiology, Pennsylvania State University/ FMS/ Functional Range Conditioning Mobility Specialist/ Certified Kettlebell Instructor/ Owner of Beyond Strength Performance and Beyond Strength Performance NOVA
Latest posts by Chris Merritt (see all)