I have a favorite client. She's not an Olympian, nor is she a professional athlete. A few years back she learned how to read and she's now on her way to mastering long division. She's my neice, Kendra.
That's her nailing the is0-lunge hold a few months back. Since then she's been introduced to a lot of training stimuli. A ten year olds nervous system is plastic and needs extensive amounts of afferent input to fully develop. Put simply, for her to be a monster on the softball diamond and soccer field–and for her to move well for the rest of her life–her body needs to be introduced to a ton of different movements, positions and active-cognitive tasks.
When I put together her session each week–she trains with me once per week–I keep the above factors in mind. I also keep in mind that we're working on borrowed time. Spatial awareness is best developed before a kid turns 12. Most importantly, I remember that she is a 10 year old kid and not a professional athlete. (She does, however, have an ongoing white-board battle with Josh Hull of the St. Louis Rams. Her latest poke at Josh: "Josh Hull I am 100 times better than you and you lift like a girl." She has a good start on self-esteem.)
Based on what I mentioned above, here are the goals I accomplish with Kendra each week:
1) Have fun with my niece.
2) Create an unconditionally positive environment that's challenging.
3) Improve spatial abilities.
4) Improve proprioception
5) Improve stability.
She has "everydays" that she does as soon as she gets to the gym. First, she rolls her feet with a golf ball. I don't think she has any major plantar tissue restrictions; I just want to get her in the habit of taking good care of her feet.
Next, Kendra moves on to two different basic movement circuits. She starts with jumping jacks, seal jacks and squats–three rounds of fifteen each. We get her blood moving, her nervous system excited and learn the importance of focusing even when something seems easy. Consider it the precursor to not looking past an opponent on a schedule.
After those three rounds, she moves on to her next basic movement circuit–skips, side-shuffle, side skips and bear crawls. The main goals of this circuit are training rhythm and lateral movement–two things that are important for athletic success and sick-nasty dance moves. No one in my blood line is going to dance like Urkel. She does three rounds of around twenty yards of each.
Now, things get variable. This is where we give her a ton of different afferent input to build a powerful nervous system. Rather than talk about all the different directions her training has gone and why everything was included, I'll give you a recent example of a training session and explain the exercise selection. Here's the video of Kendra's training session from this week.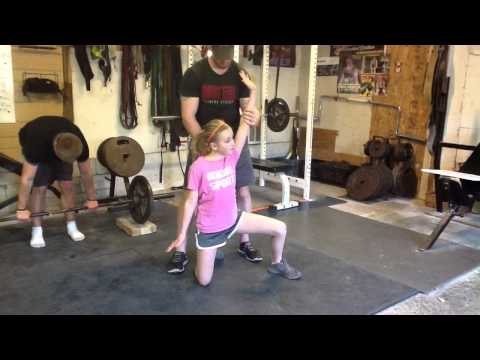 1) Get-up Progressions: Get-ups take all of the basic human movements and combine them into one great exercise. In Kendra's case, they are great for engraining stability, proprioception and conscious body awareness.
Rolling patterns build reflexive stability–teaching the deeper core muscles to fire reflexively rather than thresholding past them to the outer core muscles. Think also about where her body contacts the ground–her styloid process, elbow, hip, ankle and bottom of the foot. All of these areas are dense with proprioceptors–contacting them with the floor builds proprioception from the ground up.
As you watched the video, did you notice me using tactile ques for shoulder and hip positioning. This was less about having perfect position of the shoulder blades and hips and more about teaching her to be aware of her body.
2) Movement/Jump/Movement Combo: Before we get all sciency, the biggest reason Kendra does this drill is because she likes it. She thinks jumping is fun so I make sure she does some every week. Above all else, I want her to love exercise.
Secondary to that end is athletes need to be able to seemlessly string together complex movements. Most of these movements require a level change. General drills such as this will prepare her for sport, and position, specific drills she'll do at practice.
This drill is also great for developing spatial abilities and learning deceleration skills.
3) Cognitive Catch: Here's where the active-cognition training comes in. She has to remember odd vs even numbers, remember that the color of the ball is attached to either odd or even numbers, find balance and catch the ball.
The biggest challenge to this drill is getting her to disregard what isn't important. Even after successfully catching the right ball, she still wants to keep track of what happens with the other ball. This drill is great for active problem solving, but it's also fantastic for discerning what information is important from that which isn't.
4) Basic Strength Exercises: These are the least important components of the session, but I include them because good strength patterns are going to be useful in a few years. These are also confidence builders. It's easier for her to see that she is getting better when she can pick up a little more weight or that a batwing hold isn't as hard as it used to be.
I'm not a youth training expert; I'm sure those that are probably disagree with some of what I do with Kendra. But she's getting better each week and having fun doing it.
(7483)
The following two tabs change content below.
M.S./ CSCS/ Owner of Beyond Strength Performance/ Ginger
Latest posts by Todd Bumgardner (see all)