This is the first piece of many that will pertain to MMA conditioning, nutrition, recovery, etc… 
In this first blog we are taking a look at a conditioning class that I put the guys through earlier this week.
Dynamic Warmups*
–          Hip Flexor Rockers
–          Front Rolls
–          Crunch Pull Throughs
–          High Knee Walks
–          Mad Cats
–          Ape Runs
–          Reverse Cross-Over Lunges
–          High Knee Jumps
–          Spider Crawls
–          Mountain Climbers
–          GET-UP-AND-GO
2 x prone @ 15yds sprint
2 x supine @ 15yds sprint
Four Station Circuit – Two fighters were placed at every station.  Each section of each station was carried out for 45 seconds with 20-30 seconds break during the workout.  This is the LONGEST I go on almost anything with these guys.  Any section that is not doubled is partner oriented, and the partners switched after the 45 seconds.  After each full station was completed, rest was around one minute before moving on.  Trust me, it may sound/look easy, but I've got some friends that would beg to differ. 
–          Station 1:
Kettlebell Cradle/Overhead Walk & Kettlebell Hip Swing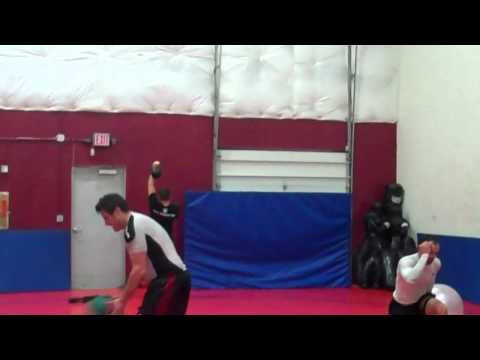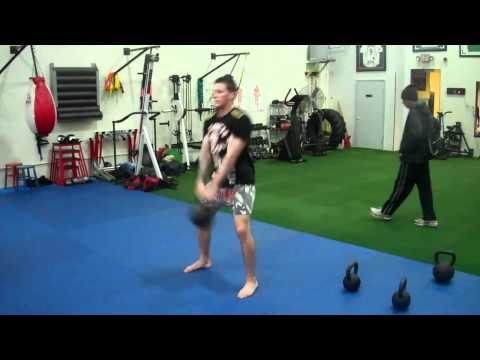 Wall Sit & Stability Ball Grapplers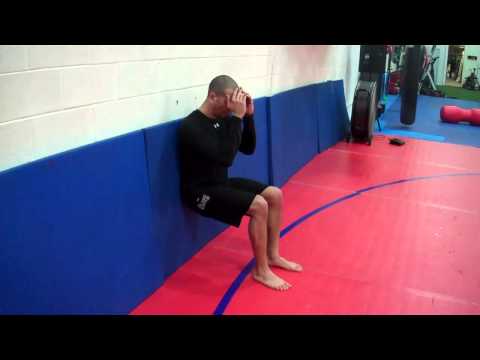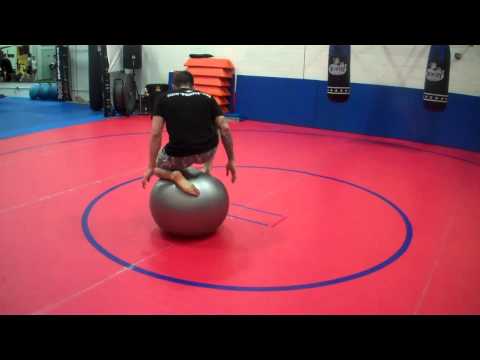 –          Station 2:
Medicine Ball Overhead Throw & Pull-ups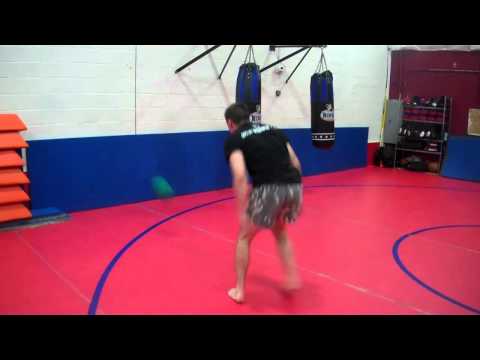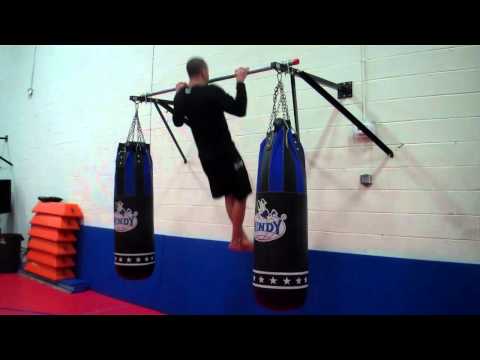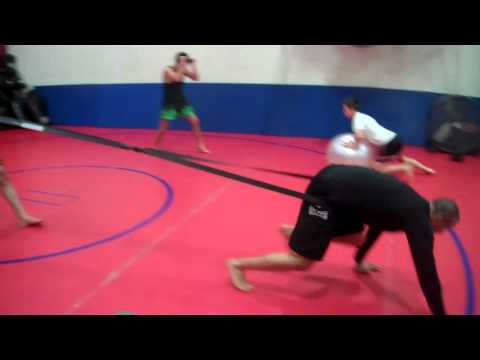 –          Station 3:
Sprinter Lunge Switches (My apologies, but I forgot to record this exercise! You can see them in the background of the kettlebell walk video.) – From a lunge position, the idea is to switch legs as explosively as possible, with intense arm drive.  After each switch, stabilize and "stick" for a few seconds before exploding again.  THIS IS NOT A QUANTITY DRILL!!!  The idea is to perform very clean, very explosive repetitions.  I will post a video in the near future…
Stability Ball Shabow Box and Sprawls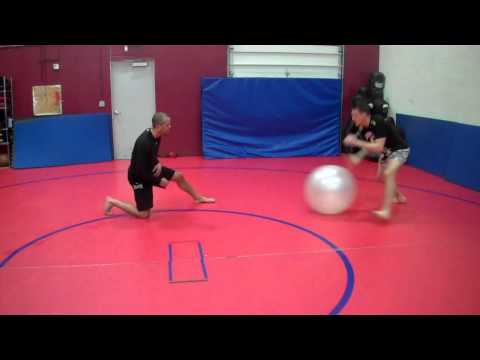 –          Station 4:
Dummy Circles with Ground and Pound & Front Plank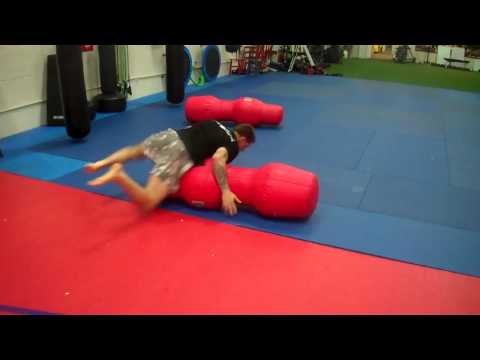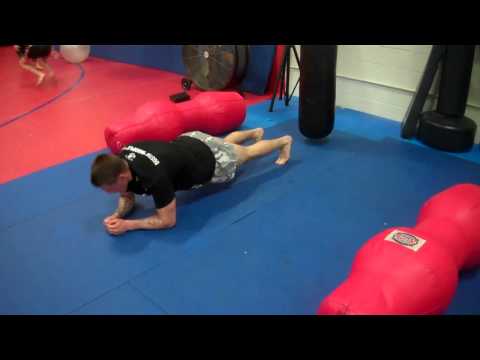 Cooldown & Stretch
I tried pairing exercises that complemented each other in some fashion or another.  Seriously, try going from a wall sit to grappling on the stability ball.  That balance is generated from keeping the center of gravity over the ball, which takes major hip control- not so easy in the mix like this.  Credit goes to Tony Passos, great friend and BJJ mastermind, on the stability ball grappling by the way.
So there you have it.  This is NOT how we orgranize every class.  In fact, we rarely use props (kettlebells, stability balls, etc…)- it is just that much easier to use bodyweight and partner work when you have a large amount of fighters in the mix.
There are days where I have eighteen fighters going at one time in the class.  As you can see by this design, I could have dropped in up to sixteen of them without making any alterations.  And it would have been very simple to make adjustments for a few more.  On this particular night we had eight fighters present.
*If you have any questions about the warmup drills, keep a lookout for our upcoming E-book on dynamic warmups…  And of course, we will answer any questions you have in the meantime.   Thanks to Dustin Pague, Jonathan Hughes, and all of my students for helping.   Extra special thanks to Coach Eddie Mason and MASE Training for the facility to train out of.   [fbshare]
(1965)
The following two tabs change content below.
Strength Coach/ B.S. Kinesiology, Pennsylvania State University/ FMS/ Functional Range Conditioning Mobility Specialist/ Certified Kettlebell Instructor/ Owner of Beyond Strength Performance and Beyond Strength Performance NOVA
Latest posts by Chris Merritt (see all)