The good ol' push-up- a staple of bodyweight training, and yet, butchered oh so often.
A quick search of the term "bad push-up form" resulted in the following pictures:
We do a basic push-up test in our assessment at Beyond Strenth Performance NOVA.  No, not how many you can do in one minute- we simply want to see if you have the core stability to perform a proper push-up.  Surprisingly, a) most people do not, or b) they've never lined up properly and used the right form.
Check out this awesome picture of standing, static postures.
Simply stated, you should look like the guy with "good posture" the whole way through your push-up.  Unfortunately we see combinations of the "not-so-good-poopy-pants postures" as shown above all too often.
Many times it's as simple as showing somebody the proper alignment, and BAM!  Their push-up form is fixed, they demonstrate proper core stability and they leave the assessment with a golden star sticker.  Check out this video demonstrating the two most common from errors we see on a regular basis and how to use the band push-up to give the client some visual feedback for correction.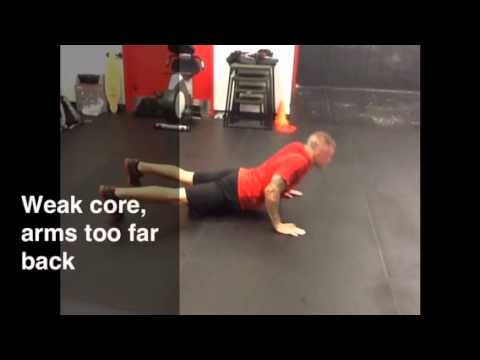 If the athlete still demonstrates a weak core with proper alignment, at least you now have some notes for programming consideration.
Best,
Coach Chris
"Progression Through Perseverance" (2475)
The following two tabs change content below.
Strength Coach/ B.S. Kinesiology, Pennsylvania State University/ FMS/ Functional Range Conditioning Mobility Specialist/ Certified Kettlebell Instructor/ Owner of Beyond Strength Performance and Beyond Strength Performance NOVA
Latest posts by Chris Merritt (see all)