So it is done, but for me it is far from over.  These past two days have enlivened me with the excitement of having a new (kind of) toy to play with.  Watching Jeff meaneuver the kettlebell as effortlessly as he does (see below video) will blow your mind.  I was always familiar with the exercises that we learned during the cert as I said before, but when it all came together by the end of the day today, something just clicked.
Like strength training, kettlebells are so often overcomplicated and I think it scares a lot of people.  My favorite thing about Jeff's philosophy on training is his minimalist approach.  When I made the move to VA last May ('10), I walked into a room full of overtrained fighters far too sore from their "strength and conditioning training" to perform their skills training (BJJ, Muay Thai, Wrestling, etc…) optimally.  I mean really, what's the purpose of doing strength and conditioning if it leaves you far too sore to actually practice, spar, rep moves with good form, etc…  While I won't go into details of HIT and it's effect on athletes over time, I will just stick to my point and say that Jeff's principles are spot on. 
We repped the basics for somewhere around 14-16 hours over the two days, and every time I would perform the movements and listen to Jeff's feedback, the easier the movements became.  Efficient movement makes the kettlebell almost weightless throughout the majority of it's path, saving you the energy to explode when you need to…  My reason for telling you how much time we put in is to point out how much you COULD do (you really wouldn't train this much) when the movements are carried out correctly.
I could probably go on and on about my experience with Tactical Athlete Kettlebell Training, but I'd rather you just check out Jeff's site here: http://www.tacticalathlete.com/.  If he's doing a seminar near you, GO!
Lastly, I would just like to say that I met some awesome trainers over the past two days as well…  I am so glad to have gotten to work with each and every one of you, and I look forward to seeing you all again soon!
Awesome video of Jeff juggling… with a little surprise: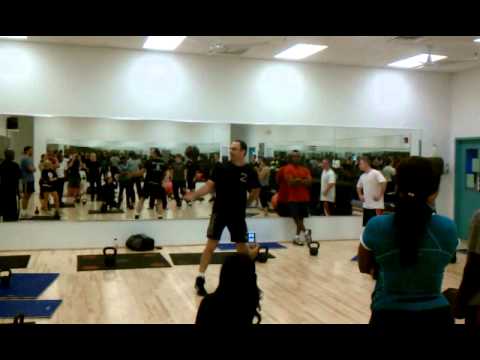 Take care,
Chris
[fbshare] (865)
The following two tabs change content below.
Strength Coach/ B.S. Kinesiology, Pennsylvania State University/ FMS/ Functional Range Conditioning Mobility Specialist/ Certified Kettlebell Instructor/ Owner of Beyond Strength Performance and Beyond Strength Performance NOVA
Latest posts by Chris Merritt (see all)