Technology is getting a bit out of hand.  We get mad that the internet is "slow" on our phones, the GPS sucks, ahhhh! so frustrating, right?  Well, I also remember a time, not long ago at all, when I had to click each button multiple times just to get the right letter for a text and Snake was all the rage!  Reality is, our phones and tablets are pretty freaking awesome, and today I've got my top 4 conditioning apps lined up for you…
ENJOY!
1.)    Tabata Pro v3.5.1- We purchased the Title Platinum Professional Gym Timer at my gym back when we first opened.  This thing is awesome!  However, at a price tag of $260 on most websites, it's a bit pricey.  So this past week when I stumbled across the Tabata Pro app for $2.99, I was in complete disbelief.  This bad boy actually has more options than the Title timer, for just over 1% of the price!
3 programmable timers
Customize all time settings (prep, work, rest, cycles, and sets)
Syncs with your music, using a feature included called Workout DJ (choose between pause, lower volume, or stop and skip to next song during the rest cycles)
Screen flashes during work cycles (optional)
You may run it in the background (other apps will work simultaneously)
External display support (you can hook up your iPhone 4, iPod touch 4th gen, iPad & iPad 2 to play through a TV, or even a projector screen)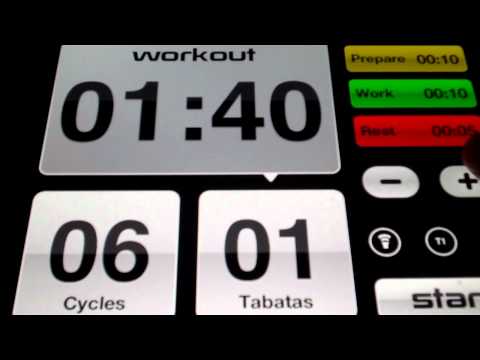 2.)    KB Timer Pro v1.12- While this timer is similar to the Tabata Pro, it has one extremely cool option- the ability to input repetitions.  Let's say that I am doing intervals of :30 work to :30 rest, and in that time I want to complete 6 repetitions.  Every 6 seconds the timer will beep letting me know I should be completing a rep!  The other night I used this for conditioning in Muay Thai class.  I set the timer for :30 work and 40 repetitions.  We moved through pushups, then bodyweight squats, and finally box crunches with a short break in between each exercise for 3 rounds.  Reader beware, these guys are EXTREMELY conditioned, and this NOT easy.  But sometimes we need to step outside of our comfort zone.  That comfort zone is all relative to the individuals involved.
Also use the reps option for speed work… for example, I could set the clock for :06 and set the reps to three for bench press.  At each beep the athlete would contract eccentrically and concentrically as quickly as possible and maintain a static contraction at the top portion of the lift until the next beep.  Obviously this is not limited to the bench press…
The app has a "random" option.  You can choose the work intervals, rest intervals, or both to be set to random.  You can still choose the total length of the circuit, but rest and work will be random.  This in combination with the reps option makes for some awesome mental training with your athletes…
You can also display the exercise to be performed for each round right on the screen (even getting as detailed at telling you when to switch hands on kettlebell exercises)
Save your workouts with the workout history option… this even comes with the option to export your workouts through text or a spreadsheet (all auto-generated)
Seemingly unlimited timers can be saved
Just 99 cents!
This app would have been #1, but it doesn't work with the music as well as Tabata Pro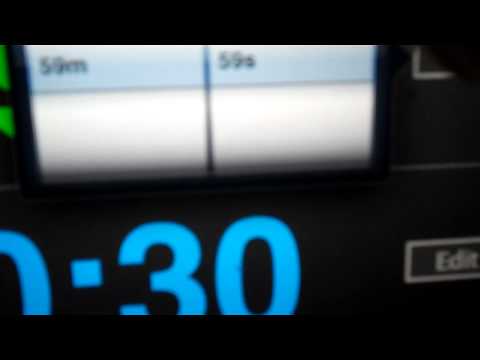 3.)    You Are Your Own Gym v2.14.1- Sometimes it becomes very easy to repeat yourself.  I'm talking about exercise programming here, and this app has over 300 variations of bodyweight and minimal equipment exercises broken into quick access categories (push, pull, legs, core, and whole body).  I've already used this to discover variations of common exercises that I had either forgotten about or altogether never seen before.  But it's the "timers" that make this one stand out.
Comes with pre-set customizable timers for interval sets (traditional resistance training), super sets (low volume, high intensity), 4-step ladders (high volume, low intensity), stappers (timed circuit training), and tabatas (HIIT).
The interval sets timer is unlike anything that I've seen in an app before.  It's designed with strength training in mind.  I could type my whole workout into the program, set the rest between each set and hit the start button.  Let's say that my first exercise is seated box jumps for 3 sets of 2 jumps with :45 rest between sets.  Once I complete my first 2 jumps I click "reps complete" and it automatically starts a countdown timer for my rest.  I can customize the rest for EVERY SINGLE EXERCISE!
This app is based around the designer, Mark Lauren's book "You Are Your Own Gym."
Just $3.99!
If you're new to program design and just want a good workout, use one of Mark Lauren's 10-week programs (basic, first class, master, and chief) that come pre-loaded in the app!
4.)    Seconds Pro v2.1.1- To be honest with you, I have not had a ton of time to play around with this one, so that is really the only reason why it is #4 on my list.  However, there are some awesome things to note right off of the bat.  This thing may eventually move way up.
The music settings are very detailed…  I can create custom playlists for different phases of each workout (the warm-up, work sets, rest sets, and cool-downs), making this thing very appealing to those of us who teach any type of group classes (I have group conditioning classes at my gym as well as a contract with AOL to do boot camps for their employees at their headquarters)
The screen is very clean, showing a lot of information in an easy to read format throughout your workout
Only $2.99!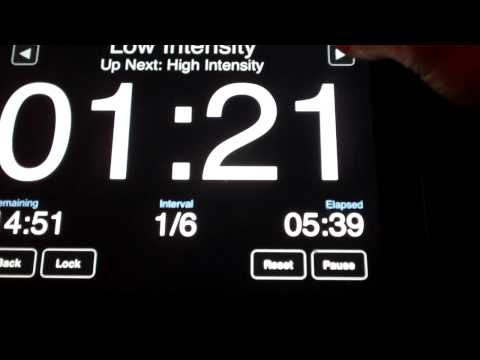 So there you have it, my top 4 conditioning apps!  Leave a comment below after you download them and let me know what you think…  AND if you think I missed something awesome, make sure to leave a comment below and let me know- I'm always looking for cool new fitness toys.
Best,
Chris (12527)
The following two tabs change content below.
Strength Coach/ B.S. Kinesiology, Pennsylvania State University/ FMS/ Functional Range Conditioning Mobility Specialist/ Certified Kettlebell Instructor/ Owner of Beyond Strength Performance and Beyond Strength Performance NOVA
Latest posts by Chris Merritt (see all)