No, I'm not crazy. I'm not playing mad libs, either. NFL Linebackers, core training and cut-off sweatpants are related.
One of the coolest opportunties I've had as a strength coach is working with my best friend, Josh Hull. He is an NFL linebacker that played his college ball at Penn State and has spent the past two season with the St. Louis Rams. I'm convinced that he is the hardest working player in the NFL.
This past weekend Josh made it home to visit and made it in to train. In between his sets of bench, he was attacked to the cry of "commando!" by my brother and the other crazy assholes that train at our gym. Josh didn't win the dog pile battle and, unfortunately, I didn't get a video.
After the dust settled and the pile on session was over, Josh got some great work in. I didn't have my camera handy for most of it, but I did film his core work from his lower-body session–done in his classy cut-off sweatpants.
Here's the video: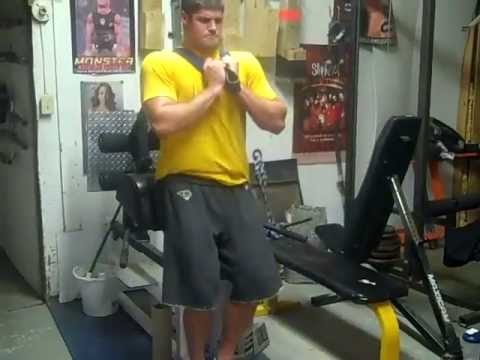 I'm sure you noticed that we did some core training with spinal flexion. Big whoop. A lot of coaches go insane when they see spinal flexion–unless your athlete is loaded or you are are trying to correct a postural deficit, it's not that big of a deal. Josh has almost perfect posture and he needs to feel like he murdered himself to get anything out of a training session. So giving him a little of what he wants isn't a big deal. This is especially true because all other movements were done while reinforcing neutral posture.
The last exercise in the video is the "around the world" from Jim Smith and Joe DeFranco's dvd EXTREME! If you haven't bought the dvd yet, you need to.
Sometimes it's just about bustin' your ass.
Get Stronger,
Todd (2543)
The following two tabs change content below.
M.S./ CSCS/ Owner of Beyond Strength Performance/ Ginger
Latest posts by Todd Bumgardner (see all)