This week's video of the week involves three ideas for shoulder prehabilitation from three different categories, or types of work.
The first clip on the video is a myofascial release exercise for the rotator cuff, mainly the infraspinatus…  I am using a tennis ball in the video and leaning up against a wall- however, you could use some thing more dense, like a baseball, and lie on the ground for a deeper release.  This would be good to throw in during your warmups.
The second clip is a combination of shoulder traction utilizing an exercise band (which you can purchase on our site through perform better) and a dynamic stretch for the lats and hips.  This is one you just need to feel to understand.  I LOVE this stretch…  This is also great to throw into your warmups after your myofascial release work.
Finally, the third clip is a wall alphabet video.  The idea is to set the shoulder blade and roll a ball on the wall tracing the alphabet…  This is a drill that works dynamic stabilization of the shoulder.  You could make this exercise more advanced by leaning into the wall more, or even do it leaning over a table (and nail your core pretty good while you are at it!).  I would recommend doing this one at the end of a workout.
For more ideas, check out our shoulder prehab section under the exercise video index.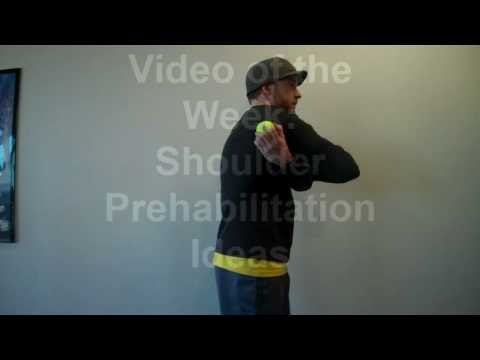 Enjoy.
Chris
[fbshare] (750)
The following two tabs change content below.
Strength Coach/ B.S. Kinesiology, Pennsylvania State University/ FMS/ Functional Range Conditioning Mobility Specialist/ Certified Kettlebell Instructor/ Owner of Beyond Strength Performance and Beyond Strength Performance NOVA
Latest posts by Chris Merritt (see all)